Fancy Bingo
is really excited to announce the launch of their brand new instant game tournaments.
The Tournaments
In these tournaments you'll pit your luck against other roomies to win the most real cash you can. Each tournament is open for up to 2-3 hours and you can choose when you want to start your 5 minutes of play time. To add to the excitement, you'll even see how everyone else is doing by keeping an eye on the live leader board! At the end of the tournament, prizes are given out the top 10 players who win the most real cash in the time allowed.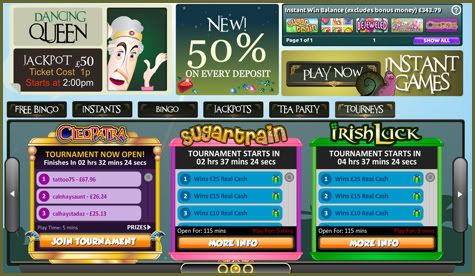 The Game
They are running instant tournaments on everyone's favourite games. The maximum bet is capped at 20p/25p per spin (depending on the game) so everybody has an fair chance of winning. You're position is based on wins which means the more you win, the higher up the leaderboard you go. At the end of the tournament they will take a couple of minutes to do their sums and work out the results. Every player will get an email of the final results and they'll also be available to view in Instants Tourney tab in the lobby.